Divorce & Family Law | Conveyancing Solicitors | Wills - Probate - Inheritance | Employment Law | Personal Injury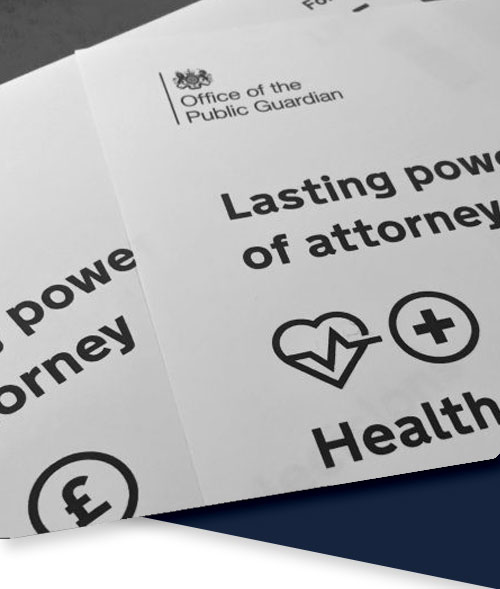 Evans Harvey Solicitors

Power of Attorney Specialists
As the financial landscape becomes more complex, reliable and expert advice is needed in order to protect and preserve your wealth, your assets and your inheritance. At Evans Harvey Solicitors, your affairs will be handled by one of our experienced solicitors who deal with your individual Requirements on a personal basis.
A Power of Attorney allows you to choose a person to act for you when you cannot or do not want to. You are called the Donor as you are giving the power to the Attorney. The Attorney then steps into your shoes and acts as if they were you. They must always act in your best interests and so long as you have the mental capacity, then you can revoke the power and end the power of attorney at any time.
Signing a Lasting Power of Attorney (LPA) is probably the most important and thoughtful thing you can do for the friend or family member who may have to deal with your affairs if you lose capacity to make decisions for yourself. Unfortunately, a significant number of us will be unable to manage some, or all of our affairs in later years. Evans Harvey Solicitors have years of experience and knowledge of helping our clients create Power of Attorney or Lasting Power of Attorney arrangements.
Power of Attorney
Lasting Power of Attorney
It is not possible for an Attorney to apply to become your Attorney, you must actively give them the Power and the instruction to create a Power for someone to act as your Attorney can only come from you. A Lasting Power of Attorney (LPA) can be specified a Property and Financial Affairs LPA which covers decisions about the donor's property and money and or a Personal Welfare PA which covers decisions about the donor's healthcare and personal welfare
Preparation or amendment of a Will
The administration and distribution of estates following someones death
An application of a Grant of Probate or Letters of Administration
Inheritance Tax and estate planning
Lasting Powers of Attorney and Powers of Attorney
Lasting Power of Attorney
A Lasting Power of Attorney is particularly important to consider if you have had a recent diagnosis of a progressive illness, such as Parkinsons Disease, Dementia, Multiple Sclerosis or Huntingdons Disease. Making a Power of Attorney now will give peace of mind and an 'insurance policy' for the future years.
Contact Us
General Power of Attorney
A General Power of Attorney gives someone else the power to handle your financial affairs for you while you are able to oversee and make your own decisions (usually for a specific reason or a limited period). However a Power of Attorney can be useful for other reasons, e.g. a prolonged absence from the UK.
Contact Us